Top quality roofers in Rotherham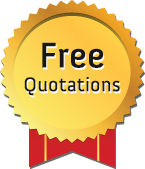 Unfortunately, it's almost inevitable that at some point your roof will require the services of a roofing company. We understand that when you're hiring roofers, the minimum you expect is a reliable, long-lasting job. We also recognise that our customers are keen to avoid inflated costs and unnecessary delays.
We've always enjoyed an excellent relationship with our customers. A big part of this is because we know and understand the different types of property in Rotherham. Regardless of whether it's a large town house or a bungalow, we'll have worked on a property similar to yours.
Why choose us for your roofing?
There's a wide host of reasons why we're the best option for you and your roof.
Affordable prices - We can offer you a high standard of roofing without a sky-high price tag.
Reliable roofers - We've consistently provide excellent work on a wide variety of requirements.
Excellent reputation - We're incredibly proud of our long list of content customers across the city.
Local ties - We're experts on most roofs in Rotherham, and will certainly have worked on a roof like yours.
Range of options - No matter what you might need, we're roofing experts in a wide range of areas.
Lengthy guarantees - Every roofing job we do comes with an extensive and long guarantee.
We've a long list of roofing services that cover most needs or requirement that you might have. Visit our range of services page for more information.
We work hard to ensure that each and every job will stand the test of time. We only hire the best roofers, and only ever source the best roofing materials, whilst making sure that any quote we offer is reasonable and economical.
Get in touch
We're Rotherham based and only a phone call away. We're a friendly, trustworthy group of roofers who are more than happy to visit your property and provide a free quote for you to consider at a time and date that suits you, with no obligation to hire us.
Get in touch today on 01709 717 849 to learn more.