Built-up felt roofing in Rotherham and beyond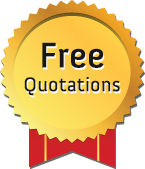 Across Rotherham there are a huge number of felt roofs that, at one point or another, we've either repaired or installed. We're incredibly proud to have left a long list of satisfied customers in our wake.
With our wealth of experience, we're confident that regardless of whether you require a small repair or a full-scale installation, we can provide a service that is quick, pain-free and affordable.
Felt roofing? Here's why you should call us
We believe that we are the best option felt-roofing option for you for a number of reasons.
Affordable work.We've absolutely no interest in providing an inflated price tag.
Knowledge. We've a wide range of experience, and know the roofs and people of Rotherham.
Dependable. We're a local company, and you can rely on us to avoid delays and quick-fixes.
There are many more reasons why we are believe that we can offer you the best value for any felt-roofing need. Whether you need a quick quote to consider, or else are simply looking for some advice on what you need to do, call us to learn more.
Get in touch today
We're happy to field any enquiry. Call us on 01709 717 849 to find out how we can help you. We can talk to you through your options, arrange to visit your property and provide a free quote with no obligation to hire us.
Alternately, you are welcome to enter your details into the form on this page and we'll gladly get in touch with you.