Flat roofing in Rotherham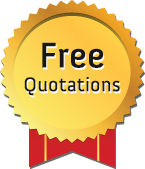 As a long established company we have always enjoyed a great reputation in Rotherham and the surrounding areas. Part of the reason for this is the fact that we're experts in repairing and installing all kinds of flat roofs.
We're confident that no matter what problem you might have encountered, we can offer you a dependable, reliable flat roofing solution without an inflated price tag.
Why choose us?
Whatever you might need, we are more than equipped to provide an affordable, long-lasting, flat roofing service. There's a long list of reasons why we believe we're the best option for you.
Fair pricing. We offer a fair and economic price for our work, and we've always been praised for this.
Expert workmanship. We are yet to encounter a flat roofing problem in Rotherham that we couldn't repair.
Customer service. We're friendly and hard-working, and have no interest in delays or quick-fixes.
Written guarantees. All the work we do comes with an extensive and lengthy guarantee.
We're always keen to expand and continue our reputation in the area, and we're experts that are more than adept at tackling any flat roof, whether it be a small repair or an entire installation.
Get in touch
We've always enjoyed a great relationship with our customers, and would love the opportunity to show you why. Get in touch with us today and we'll gladly arrange a time and date to visit your property and survey your flat roof. We'll then provide a free quote for your appraisal.
You can contact us on 01709 717 849, or alternately enter your information in the form on this page and we'll get in touch with you.